Made to order and shipped within 3 days.

International shipping is available, just ask for a shipping quote.
IT'S UP TO YOU!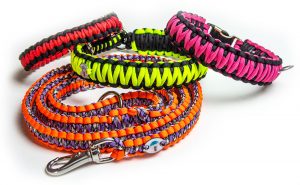 Alfie's Leads was formed in 2013 when I was looking for strong cord to attach to my Wire Fox Terrier, Alfie's collar. I discovered Paracord 550 and began to make dog leads for Alfie. Word spread and the rest is history. Within a few years the Alfie's Leads range expanded and I now make various types of dog lead and have an extensive range of collars.   I also make harnesses, head collars tuggie toys, flirt poles and training lines along with items such as watch straps, archery slings, belts and camera harnesses.
With around 40 colours of Paracord and 9 colours of Marine Rope in stock, I have something for every dog!
Items from Alfie's Leads are available worldwide and I have happy customers in America, Australia, Italy, Croatia, Portugal, Canada and Germany, to name a few. I offer free shipping within the U.K. and can provide a shipping quote for overseas orders – just ask!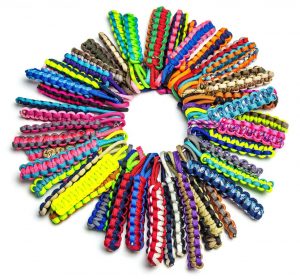 All items are made to order to ensure your exact requirements are met and each item is built to survive the toughest conditions.
If you are looking for a Paracord item and don't see it on this website, please get in touch. I'd be happy to extend the range further!
Quality Materials 
I use genuine Paracord 550, Paracord 650 and marine rope which I personally import direct from the E.L. Wood in USA.   They are one of the largest manufacturers of braided parachute cord And rope in USA supplying the military, aerospace and Police with this versatile cord. Survivalists, including Bear Gryllls, won't go anywhere without it!
Paracord 550 has a breaking strength of 550 pounds making it an ideal material for dog leads and collars. All cord used is 100% nylon, it will not cause friction burns and is comfortable to use. Paracord 550 is lightweight.
Quality Fittings 
All hooks and rings are made from marine grade stainless steel or brass.     German style scissor hooks are fitted as standard, however, swivel snap trigger hooks are also available in 70mm,  80mm and 90mm.    Just ask.
Care and attention 
If the hook on your lead becomes tight please don't force it, just oil it to remove any debris in the spring.   Spray any moving parts of clips/buckles with lubricant occasionally to avoid damage to springs, especially after washing.
All items are machine washable, they won't shrink or stretch and will look like new after washing. Tie a sock (or similar) over the metal parts as this will avoid damage to your washing machine. Allow to dry naturally.