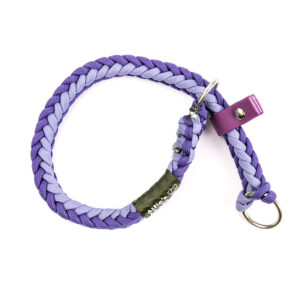 A new range of Leads are available a herringbone weave.  Standard leads are made in an 8 strand weave which is around 11mm in diameter.      This weave replaces all of our cobra leads which we no longer supply.
The chunkier 12 strand weave is approximately 14mm diameter replaces the king cobra leads.
This weave is also perfect for slip collars and chunky slip collars!
The weave produces a square rope with the 2 colours running down the lead, however, if you prefer a zig zag pattern, just ask.
I've been selling herringbone leads since August 2021 and customers live them.    The significant benefit of this weave is that it always remains in place whereas the cobra weave tends to tighten up towards the handle.