Hi my name Robert and my dog is called Darwin. He is a very energetic and friendly dog who can pull like crazy on the lead.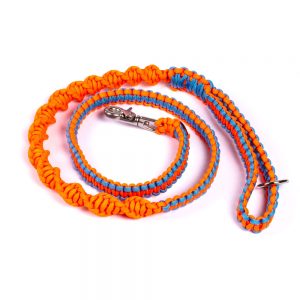 He absolutely wants to say hi to everyone. That is why I and delighted to be the owner of one of Alfie's Leads bungee leads.
It has a strong, solid, comfortable, and secure handle. The bungee part of the lead extends roughly two thirds of the way down the lead and then returns to a normal type lead for the last third. Topped off by a nice easy to use metal clip at the end.
Thanks to the ergonomic design of this lead when Darwin pulls the bungee part disperses most of the force so my arm is no longer jolted when he lurches forward and also slows him down a little, making for a much more pleasant walk for the both of us. When I need extra control (like crossing the road) I can hold the bottom third and keep him safely next to me.
I also find the design of the lead very unique and a beautifully handcrafted. I cannot recommended this lead enough not only for anyone who has a spirited dog like myself but also for anyone who is just after a high quality lead.